One of the main reasons people choose to change the look of their conservatory is because, a lot of the time, it does not match the look of the home. If you want to learn more about how to transform your conservatory, then please read on or if you would like to speak to someone from G King Construction, call us on 01782 641 499 or 97714 116 093 and our team will be happy to help. We offer our services across Newcastle-Under-Lyme, Stoke-On-Trent, Stone, Leek, Stafford, Market Drayton, Crew, Sandbach, Nantwich and Uttoxeter areas.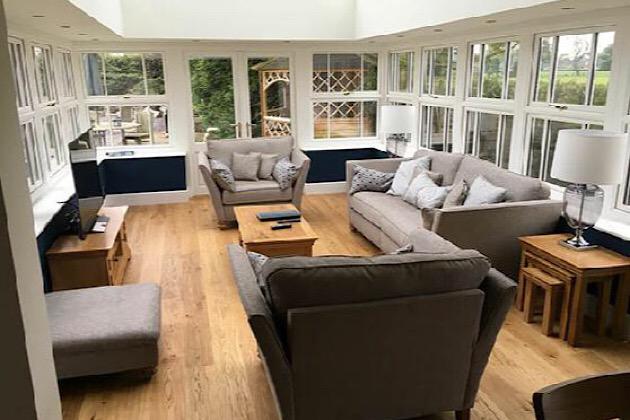 The first thing you should ask yourself before thinking about modernising your conservatory is how you want to use your conservatory. Once you have thought on that these are a few things you can do to modernise your conservatory.
Replace Your Conservatory Roof
This is one of the most common things people opt in for when modernising their conservatory. If you have had the same roof for over 10 years, you could already be experiencing loss of heat or leaks.
We can help you install a new conservatory roof that can make your conservatory feel more comfortable and match it to the theme of your home. Our team of experts will help and guide you with any conservatory installation projects you have.
Install New Doors
If you are looking to link the exterior with the interior, then installing bi-fold doors are great way to create this look. They create a classy yet a modernised look, especially when you want to have an open living space. You can add bi-fold doors either between your home and the conservatory, to create a larger living space, or between the conservatory and the garden, perfect for the summer. Again, if you are looking of installing new doors, G King Construction can help you with that. Head to the bottom of the page to see how you can get in touch with us and our team will guide you in any way we can.
Decorate The Interior
Sometimes, just by changing the furniture, flooring or even adding blinds can modernise the look of the conservatory. So add in new blinds or a soft fabric sofa to add a homely touch. You can also think about painting any wall sections bright white to create a modern, yet refreshing atmosphere. Do not be afraid to bring the outdoors in, so throw in some plants around your conservatory to add in some colour.
Contact Us for Conservatory Services in Trentham
Get in touch with us to see how we can help modernise your conservatory in Newcastle-Under-Lyme, Stoke-On -Trent, Stone, Leek, Stafford, Market Drayton, Crewe, Sandbach, Nantwich and Uttoxeter areas.
To contact us, give us a call on 01782 641 499 or 07714 116 093. You can also send us a message using our contact form or email us on info@gkingconstruction.co.uk and a qualified member of team will be glad to help. To view any of work done by G King Construction, please head over to our galleries page or read what our customers are saying about us by visiting our reviews page.