Conservatories based in Trentham and Stoke-on-Trent
Covering Newcastle-Under-Lyme, Stoke-On-Trent, Stone, Leek, Stafford, Market Drayton, Crewe, Sandbach, Nantwich and Uttoxeter

Conservatory Services in Trentham
If you are looking for a beautiful new conservatory for your home in Newcastle-Under-Lyme, Stoke-On-Trent, Stone, Leek, Stafford, Market Drayton, Crewe, Sandbach, Nantwich and Uttoxeter areas, then look no further than G King Construction. We specialise in the construction of conservatories and can help you achieve exactly what you are looking for and more.
We'll guide you through the process from start to finish, making sure that you are kept well informed along the way and that everything is kept simple and hassle-free. We understand that homeowners have different ideas and desires for their conservatory and that's why we can cater to many needs. If you are interested in seeing examples of previous conservatory projects we've achieved for customers, please check out our gallery or our blog page for specific case studies.
However, here at G King Construction, we also offer orangeries services across Newcastle-Under-Lyme, Stoke-On-Trent, Stone, Leek, Stafford, Market Drayton, Crewe, Sandbach, Nantwich and Uttoxeter areas. If having an orangery constructed for your property is something you'd like to find out more about, please visit our service page for orangeries.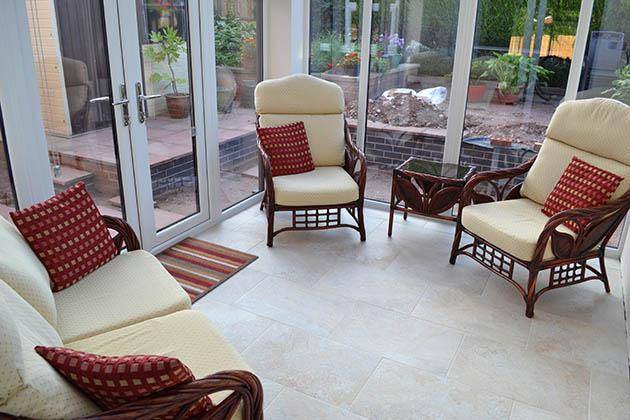 Why Choose Us for Your New Conservatory in Trentham?
With over 20 Years of experience in the trade, we're confident we can provide you with a high-quality service. Furthermore, we are fully qualified to carry out the building of new conservatories. We also pride ourselves on our level of service, our professionalism and our expertise. We believe that this experience and professionalism is transparent in the work we produce. We're confident that when you choose G King Construction for your new conservatory, your expectations will be exceeded, so do not hesitate to give us a call.
A wide range of options is available
The options available for your new conservatory are almost limitless. You can choose from a range of different colours, materials and styles to achieve a modern or classic conservatory look and feel.
What are the benefits of a Conservatory?
If you've been considering a conservatory for your property but would like to know exactly why you should consider one, take a look at the benefits/advantages of a conservatory below. If you'd like to find out in more detail about the benefits of a conservatory, head over to our blog post where we cover some of the points below.
Create more space with a better-designed conservatory.
Add value to your home if you ever decide to sell and move.
A variety of design choices to suit all homes.
Create a versatile space that can be used for a range of options.
Well-insulated so they can be used all year round, not just in the summer months.
Safe with thorough security measures including toughened glass and force-resistant hinges.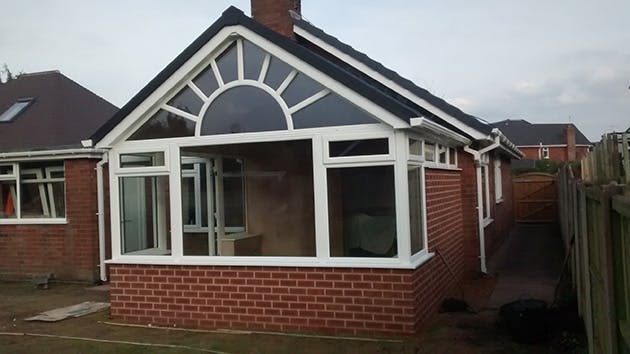 What are the different types of conservatories?
There's a wide range of designs available to you and we can tailor your new conservatory to suit your property and what you're looking for. That being said, most conservatories are based on a few fundamental styles.
Victorian conservatory

A ridged roof and a multi-faceted end wall create an exquisite rounded look in a Victorian-style conservatory.
Edwardian conservatory

Edwardian conservatories have a ridged roof and a rectangular foundation, giving them the same classic impression as Victorian conservatories but with more space.

Lean-to conservatory

The most basic style is a lean-to conservatory, also known as a Mediterranean or sun-room. The conservatory has a single-sloped roof and is connected to the home by a longer wall. It's also a good option for tucking into a corner.

P, L, T or U-shaped conservatory

When P-shaped, L-shaped, T-shaped, or U-shaped conservatories are combined with any of the foregoing, the possibilities become endless. A conservatory may be attached to practically any property because of the various possibilities.

Will I need planning permission?
In the majority of cases, you will not need planning permissions because conservatories are often classed as "permitted development". However, if you're not 100% sure that what you have in mind is in line with your local council's regulations, please get in touch today and we'll be more than happy to advise you free of charge.
Contact Us for a free quote on a new conservatory
Please get in touch with us today with your enquiry and we will be more than happy to help! We can provide you with free and professional advice if you're interested and can also provide you with a free quote on a new conservatory upon request. Also, and as previously mentioned, our conservatory services are available across Newcastle-Under-Lyme, Stoke-On-Trent, Stone, Leek, Stafford, Market Drayton, Crewe, Sandbach, Nantwich and Uttoxeter areas.
To contact us, please give us a call on 01782 641 499 or 07714 116 093, or alternatively, send us a message via the website's contact form. You'll get through to a qualified and knowledgeable member of the team who will be happy to help. If you would like to read the reviews that our customers have left, please visit the reviews page.