Block paving can make your patio or driveway look extremely appealing. If you are not sure of getting block paving, we have listed the benefits of block paving in this blog. Carry on reading or to get in touch with us regarding any of our services, simply call us on 01782 641 499 or 07714 116 093 and we'll be glad to help. We offer services throughout Newcastle-Under-Lyme, Stoke-On-Trent, Leek, Stafford, Market Drayton, Crewe, Sandbach, Nantwich and Uttoxeter areas.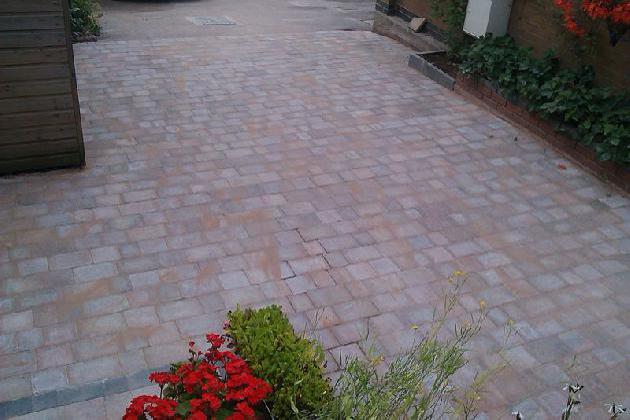 Benefits of Block Paving
Whether you are thinking of getting block paving done either in your drive way or your back garden, the detailed patterns can really complement your property. There are many benefits to block paving and we have listed them for you!
Versatile
Block paving is very versatile, making it a great material to use. It also comes in various styles and colours, making it very easy to customise it to the way you want it. You are also able to create a range patterns to further enhance the appeal of the material.
Low Maintenance
Due to the material block paving is made from, it does not require a lot of maintenance. If you would like to clean it, simply use soap and water. Having a well maintained driveway or patio could also add value to your property, another benefit that you should consider when thinking of getting block paving.
Durable
Did you know block paving can withstand all kinds of weather? This is because is it created from a long-lived material. It also wouldn't show any wear and tear form driving your car over it, so you can be assured that no matter how many times you pull in and out of your driveway, block paving will not get damaged that easily.
Visual Appeal
You can either opt in for a simple and modern design or you could go for something a bit more intricate. Whatever style and design you choose, it will certainly improve the appearance of your home.
There are plenty of other reasons for choosing to get a block paving. Here at G King Construction, we can guide and assist you through the entire process of block paving. View our contact details below to find out how you can get in touch.
Need Block Paving in Newcastle-Under-Lyme?
If you are considering getting block paving done after reading our blog, we can help you. For all of your general building needs in Stoke-on-Trent, choose G King Construction.
Simply call us on 01782 641 499 or 07714 116 093 to find out more information. You can also send us an email at info@gkingconstruction.co.uk or use our contact form to send us a message. We are happy to help across Newcastle-Under-Lyme, Stoke-On-Trent, Stone, Leek, Stafford, Market Drayton, Crewe, Sandbach, Nantwich and Uttoxeter ares.